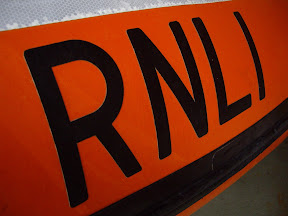 Around the world, every year, there are news headlines of violent storms, cyclones, hurricanes, flooding and huge waves. Vast areas of countryside at home and abroad have been flooded and devastated by natural disasters. Perhaps surprisingly, the RNLI has been present in some form or another in many of these situations.
7 Year ago in Mozambique after weeks of torrential rain, an eight-man RNLI team was asked to take desperately needed medical relief to 10,000 people in villages marooned by floodwater in Mozambique. These areas had been written off as 'impossible' because helicopters could not land there and no one could get there by road.
The lifeboat crews had to navigate uncharted rivers in temperatures of around 47°C. Some of their boots melted and the boats were too hot to sit on so they had to plaster them with mud, to cool them down. The crews feared they would encounter crocodiles, hippos and poisonous snakes, not to mention being bitten by the malarial mosquitoes. They were also told that there were anti-personnel mines in the area – all very different conditions to those normally experienced by lifeboat crews.
Following the 2000 Mozambique operation the RNLI formed a permanent Rapid Response Unit (RRU), which the UK government's Department for International Development (DfID) could call on at 24 hours' notice. The RRU consists of three teams of up to 20 people, which rotate their state of readiness. One team is on 24-hour standby, the second at 14 days' readiness and the third acts as a reserve pool, all ready to travel to assist in flood relief work across the globe. The cost of RRU deployment is generally borne by the DfID.
Here in Swanage a number of our crew are on RRU teams and each year undergo a significant amount of extra training including specialised Swiftwater Rescue Technician (SRT) training which prepares them for the dangerously complex behaviour of floodwaters and rivers. Once crew members become SRT qualified, they undertake annual exercises to keep their skills and knowledge up to date, and have to requalify every three years.